behind every sign of aging
is the companion you've known since day one.
Complete & Balanced Nutrition
A balanced diet is essential for maintaining happy, healthy pets. When your pet's regular diet isn't an option, CatSure™ and DogSure™ provide optimal nutritional support in the form of a complete meal replacement. Whether your pet is recovering from injury, refusing their regular diet, or experiencing signs of aging, CatSure™ and DogSure™ provide the nutritional boost they need to be happy, healthy, and comfortable.
CatSure™ and DogSure™ are 

expertly formulated to provide 

optimal nutritional support.

contains prebiotics & probiotics for digestive health

flavor enhanced with vanilla

contains taurine for heart & eye health

no corn or wheat protein— 

great for pets with allergies

fortified with vitamins & minerals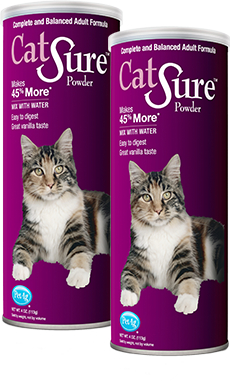 CatSure Powder for Adult Cats
Meal Replacement Formula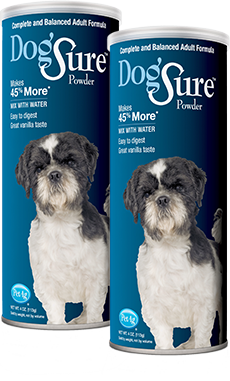 DogSure Powder for Adult Dogs
Meal Replacement Formula
Your pet is more than just an animal—they're a member of the family. DogSure™ and CatSure™ give a nutritional boost to aging pets.
Balanced nutrition is vital to a pet's healing process. DogSure™ and CatSure™ provide a complete, easy-to-digest meal fortified with vitamins and minerals.
When pets lose their appetites, they miss vital nutrients. As a liquid meal replacement, DogSure™ and CatSure™  have a delicious vanilla flavor that's easy to eat.
Nutrition for Life
As a leader in pet nutrition, PetAg provides optimal nutritional support throughout your pet's life. From the neonatal stage through the golden years, PetAg has the nutritional supplements you need to give your best friend the best care.