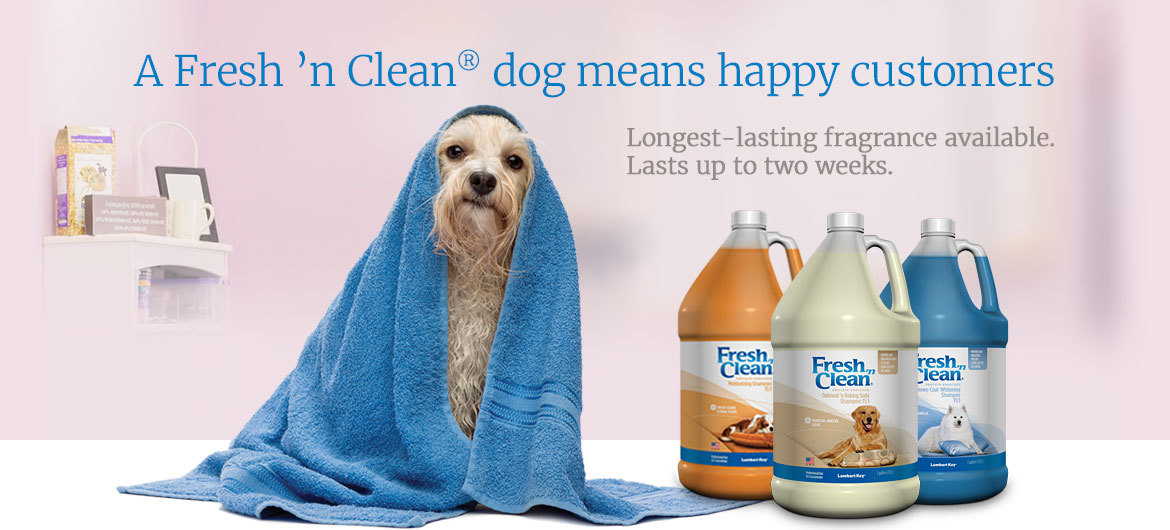 A Fresh 'n Clean® Dog Means Happy Customers.
Longest lasting fragrance available. Lasts up to two weeks.

Trusted formulas
Fresh 'n Clean® is the #1 groomer-preferred brand of grooming products. Our trusted formulas; exclusive, long-lasting scent technology; and comprehensive grooming product selection deliver the finest grooming service for dogs and the happiest experience for their owners. Exclusive grooming products supplier of the Animal Behavior College.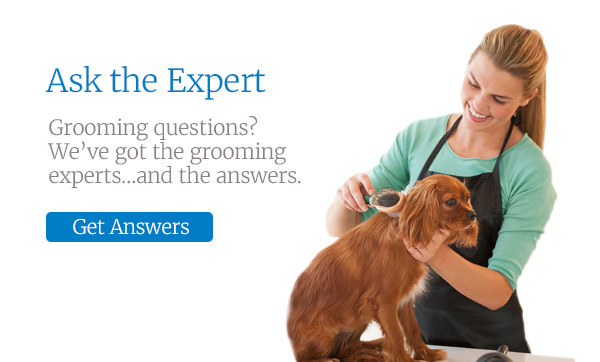 ---
Hydrate
Deshedding Pre-wash
Reduces loose coat before bathing
Seals follicle for easy pre-wash combing
Reduces blow-out time
Reduces after-bath shedding
Cleanse
Shampoo
Cleans skin & coat
Soothes skin with Vitamin E and Aloe
Strengthens & protects coat with protein
Rebalances moisture in skin & coat
Specialty formulas: Itch Relief, Dry Skin, Odor Control, Flea & Tick, Whitening, Tearless
Replenish
Conditioner
Replaces essential oils & softens skin
Strengthens hair & adds luster
Helps eliminate mats & tangles
Helps repair damaged hair
Protect
Crème Rinse
Seals & protects hair shaft
Yields softer, smoother, shinier coat
Helps repel dirt & grime
Frees mats & tangles
What's one thing that keeps customers coming back?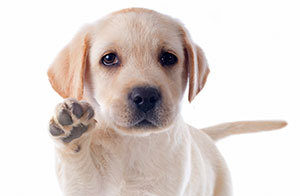 Consumer research has shown that the long-lasting scent of a freshly groomed dog is one of the primary markers of customer satisfaction with the grooming service. Fresh 'n Clean® grooming products have the industry's longest-lasting scent technology, with fragrances that last up to two full weeks.
What really makes a shampoo professional?
Formulation. Safety. Ease of use. Results. More dog groomers choose Fresh 'n Clean® products than any other brand, because we offer:
Extended-release fragrances that last up to two weeks.
Targeted formulations for every dog, breed and need.
Soothing ingredients, fortifying proteins and hydrating moisturizers.
pH-balanced, soap-free formulas free of residue-causing chemicals.
Why are the new concentrated formulas 15:1?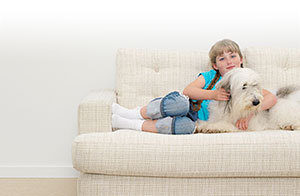 Fresh 'n Clean® professional grooming shampoos are packed as a 15:1 concentrate in a one-gallon size to provide all the results groomers demand plus the long-lasting fragrance the Fresh 'n Clean® brand is famous for. The 15:1 concentrate allows groomers the opportunity to produce 15 gallons of grooming product out of one gallon of concentrate.